How to use the context menu?
Idea and usage of the context menu
The idea of My Records is to

manage fast and easily songs and music records.


Functions of the context menu
For each song and each record you can reach the context menu by touching long on one of the shonw icons: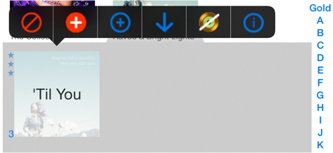 The following symbols means:

Not wanted: mark this song if you don't want to play this anymore during using My Records (choose again for disabling)



Add to playlist: choose this to mark this song for the current playlist (same exists for removing a song from the current playlist)



Add to an existing playlist (not necessary to be active)


Jump to the song in the Goldlist or in your music library below.


Remove the song from the Goldlist (same exists for adding a song to the Goldlist)



Get more information about the song or record


Back to table of contents...