How to: buy Gold-Edition

Why should I buy the Gold-Edition?
Within an in-app purchase you can activate the Gold-Edition of My Records.
If you buy it you will support the further development of My Records and get additionally functionality:
Search through your music library
Screensaver enhancement (define the minutes the screensaver should start)
Goldlist activation (if you like you can disable this)

Independently of your descision the Basic-Edition will be also developed.

How can I activate the Gold-Edition
At the main screen touch the status bar and choose the My Records symbol as shown:


With the about dialog you can choose the options: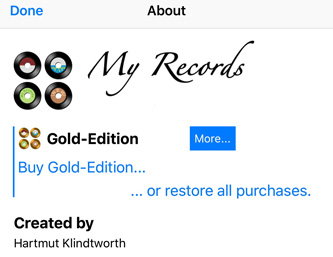 back to the table of content